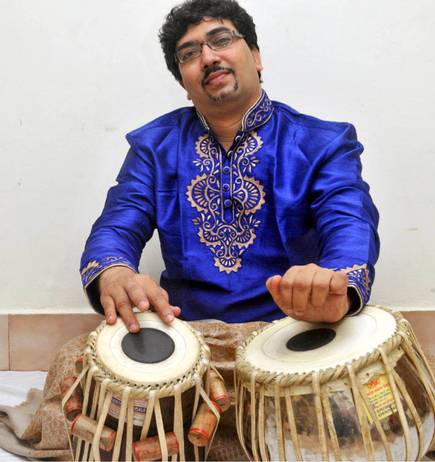 Sri Prafulla Athalye
Prafulla is highly talented tabla player who started his initial tabla education at a very early age of 7 from Pt. Vasant Vishnupurikar. Later he became a Gandabandh disciple of World renowned Tabla Maestro Padmashri, Late Ustad Allarakha of Punjab Gharana. Looking at his talent, passion and sincerity, Ustad Allarakha gave him a sincere and rigorous training continuously for more than 14 years. He is one of his most favorite disciples. He is an "A" Grade Artist of All India Radio and Doordarshan and regularly performs there while he is in India. Prafulla has also studied from another great Maestro, Pt. Arvind Mulgaonkar for 8+ years. Knowing his Guru's high expectations from him, Prafulla has been very focused, regular and hard working which made him one of the most versatile and leading Tabla players of today. Prafulla is an inspiration to many young and upcoming Tabla players as he is not only an exceptionally talented Soloist but also an outstanding accompanist in all 3 areas of Tabla accompaniment which are Vocal, Instrumental and Kathak Dance.
During his college days, he won many Inter Collegiate and Inter University Tabla competitions in India which mainly include 1st prize in West Zone Inter University competition – 1995, Jabalpur, 2nd prize in All India Inter University Competition, Gulbarga – 1995 & 2nd prize in the first All India National Youth Festival – 1995 at Bhopal, organised by the Government of India. He has given many performances internationally in many countries. He has accompanied many Top Musicians of Indian Classical Music such as Ustad Zakir Hussain, Pt. Jasraj, Ustad Shahid Parvez, Ustad Amjad Ali Khan, Dr. Smt. N. Rajam, Pt. Birju Maharaj, Pt. Buddhadev Dasgupta, etc and many others.
Prafulla has been teaching Tabla at our Phoenix Gharana school of Indian Arts for over 7 years. Please contact us for more details on Tabla classes.